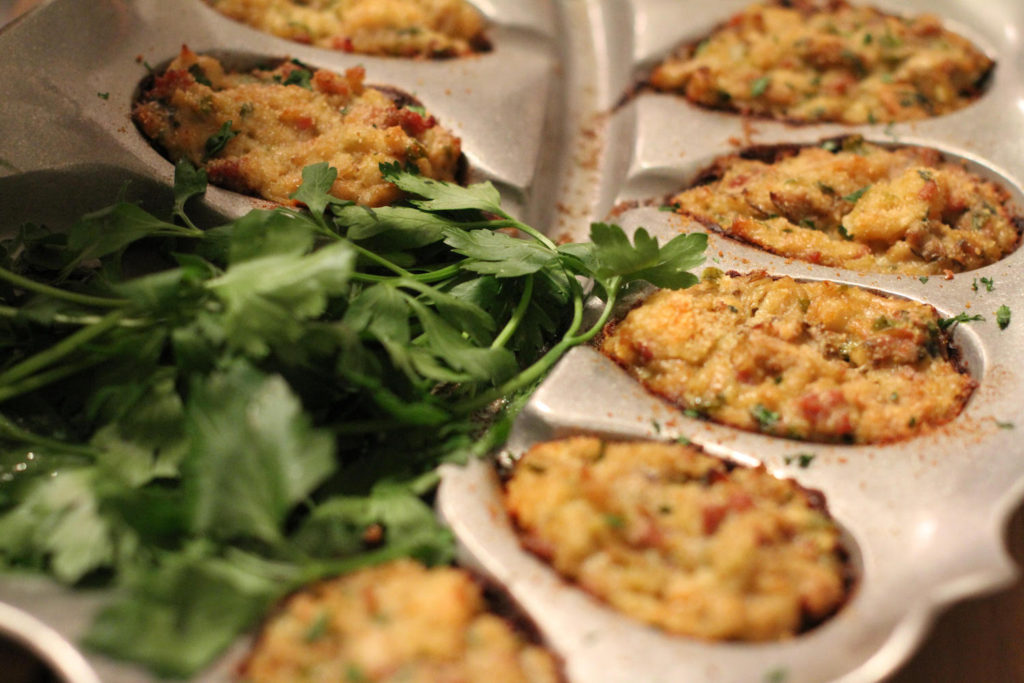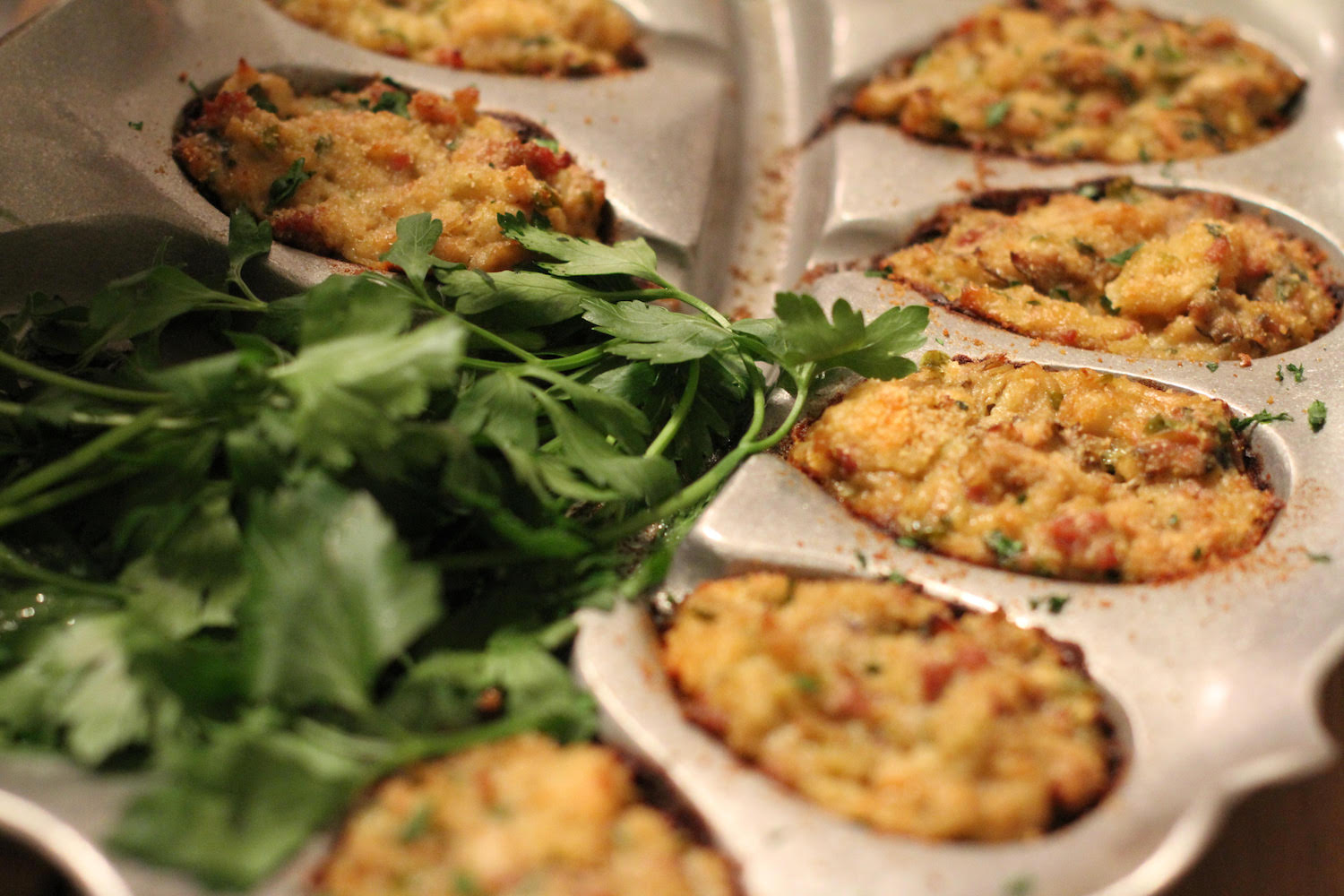 If you expect a big roasting pan filled with Thanksgiving dressing, this recipe will come as a surprise. At first glance, the recipe makes a classic Louisiana-style, French bread dressing with the trinity, oysters, pork, and beef, but there's a twist. Baked on The Oyster Bed, Adam and Tommy Waller's innovative oyster tray, the recipe produces individual oyster dressing bites! Get ready to fall head over heels if you like your dressing a little bit crusty and crisp.
Mim's Oyster Dressing is a fourth-generation New Orleans family recipe from Sheila Guillot, a close family friend of the Wallers. Her great grandparents were involved in a seafood and oyster packing business between Ponchatrain Boulevard and Fleur Di Lis near the West End neighborhood. Their family was fortunate to have access to an abundance of large and salty oysters that led to the development of several of the oyster recipes highlighted on the Oyster Bed website.
Mim's Oyster Dressing (6 servings)
Ingredients
3 slices thick bacon or pork belly
8 tablespoons salted sweet cream butter
6 dozen oysters (preferably in their own water) or chicken stock
11 cups of stale French bread, cubed
1 bunch of green onions, tops separated
1 large onion
2 stalks celery
1 small bell pepper
4 cloves garlic
¼ pound ground lean pork
¼ pound ground lean beef
1 egg beaten
Unseasoned bread crumbs
Directions
Preheat oven to 350° degrees.
In a large-bottom pot, cook bacon crisp. Remove and drain on paper towels.
Drain oysters reserving liquor/oyster water.
Reserve 2 tablespoons of bacon drippings in pot. Add and melt 2 tablespoons of butter. Add drained oysters and cook until they begin to curl. Remove pot from heat. Set aside.
Pour juice from oyster liquid over stale bread cubes. Allow bread to soak up all the oyster juice. The bread mixture should be wet, but not too soggy. You may need to add additional oyster juice or substitute chicken stock.
Cut oysters in pieces and set aside.
In large pan, melt 4 tablespoons of butter. Sautée the white portion of green onion, onion, celery, bell pepper and garlic until transparent. Add ground pork and beef. Cook meat thoroughly, but not brown. Add bread cube mixture.
Simmer over medium high heat for 2-3 minutes, stirring frequently. Add the oysters and green onion tops. Mix well. Remove from heat and quickly stir in beaten egg.
Spray The Oyster Bed with non-stick spray. Pour stuffing mixture over The Oyster Bed or spoon into individual wells, if crispier servings are preferred.
Top with bread crumbs. Melt remaining butter and dot each well. Bake at 350° degrees until brown and bubbly.
---
Recipe courtesy of The Oyster Bed
Read our feature on the Wallers and "Making Up the Oyster Bed"
Find 50+ baked oyster recipes, all easily adapted to the Oyster Bed.
Summary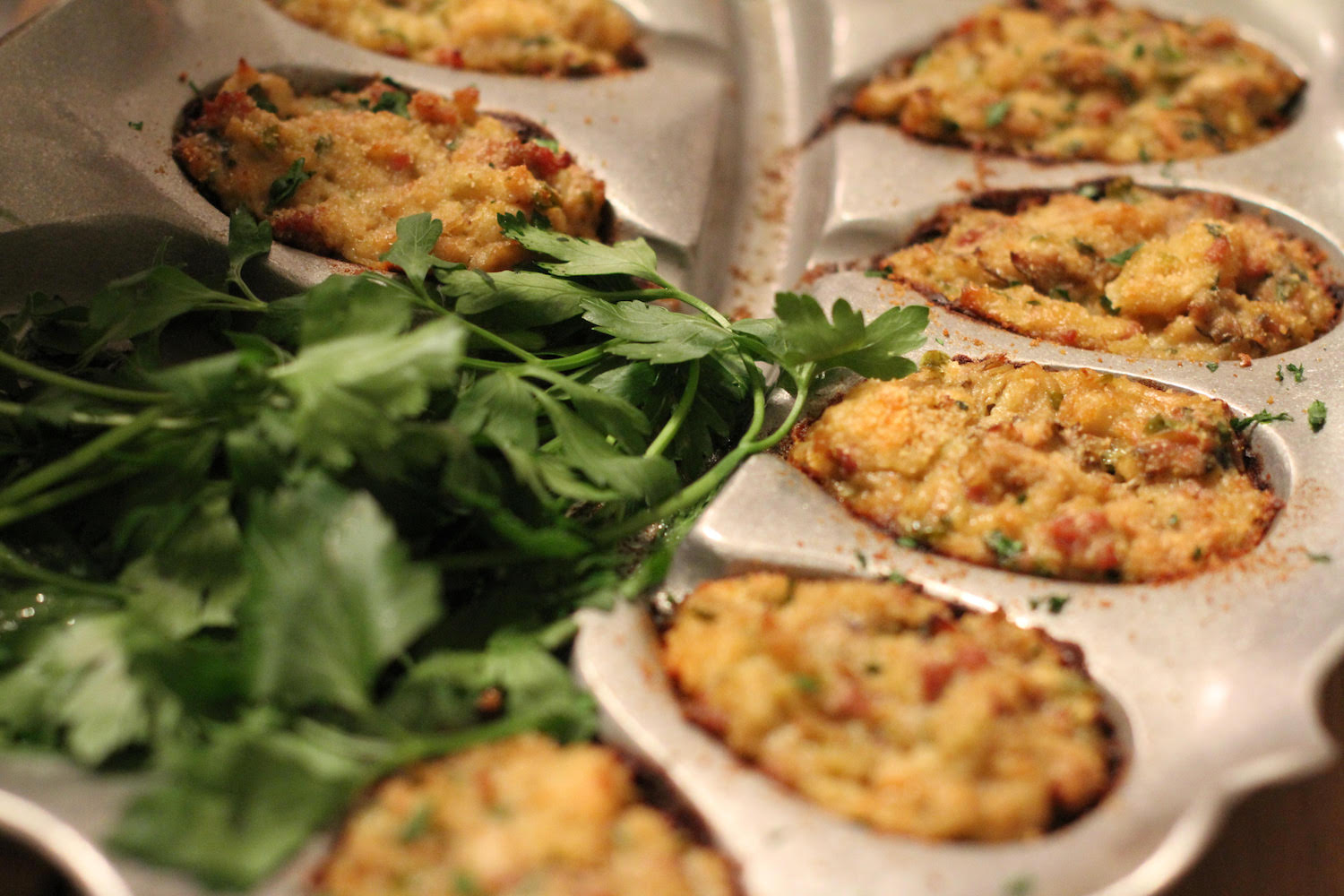 Recipe Name
Author Name
Published On
Preparation Time
Cook Time
Total Time
Average Rating





Based on 1 Review(s)