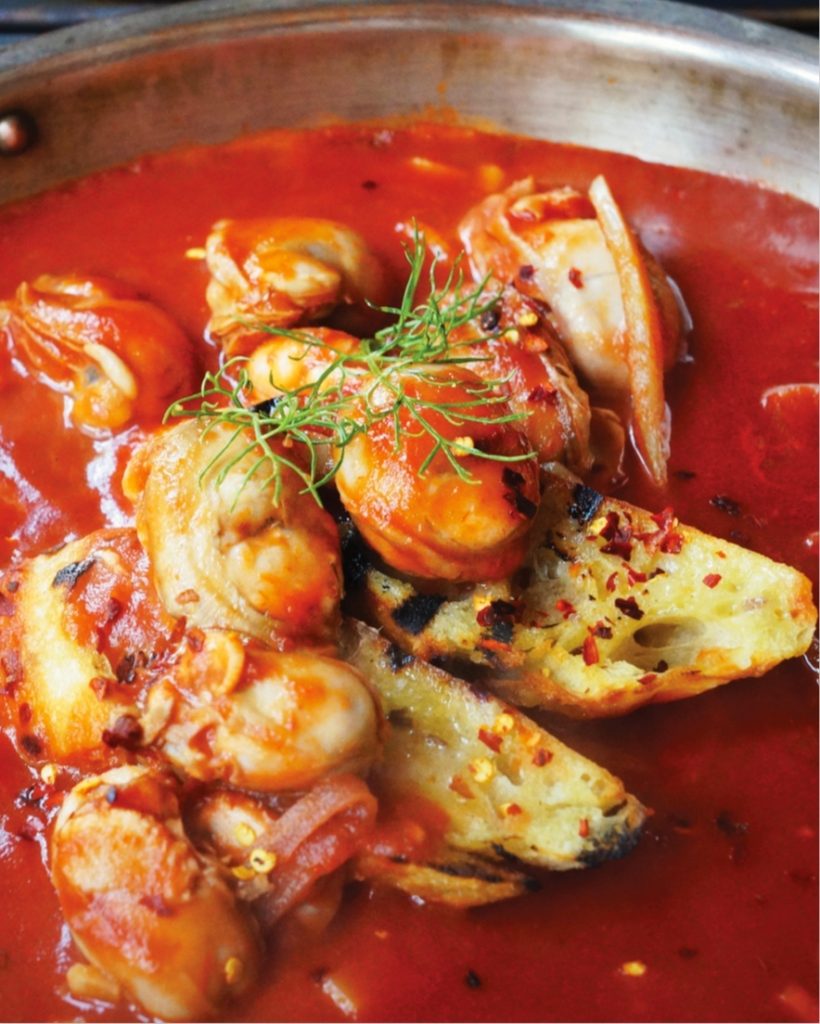 The oyster pan roast, whether joined by tomato and fennel for lunch or dinner, or by eggs and bacon for breakfast, satisfies a need for oysters at any time during the day. The pan roast cooking technique itself is not new to oyster preparations, but has seen a bit of a flavorful renaissance recently. I would say that in the long culinary history of traditional stews, they are not to be overlooked. A delicious example for this is my re-invented version of cioppino, featuring Gulf Coast oysters in a quick and easy pan roast.
Oyster Cioppino Pan Roast (Makes 2 – 4 Servings)
Ingredients
Anchovy Butter Toast
4 tablespoons (½ stick) unsalted butter, softened
1 tablespoon anchovy paste
French bread
Oyster Pan Roast
24 Gulf Coast oysters
2 tablespoons extra-virgin olive oil
¾ cup thinly sliced small fennel bulb
¾ cup thinly sliced small yellow onion
1 tablespoon minced garlic
1⁄8 teaspoon red pepper flakes
1 cup red wine
15-ounce can crushed tomatoes
1 bay leaf
1 fresh thyme sprig, plus more for garnish
Kosher salt
Freshly ground black pepper
Directions
FOR ANCHOVY BUTTER TOAST: In a small bowl, mash together butter and anchovy paste with a fork. Slice the bread on a sharp bias lengthwise to make four pieces that are each 1 inch thick and about 6 to 8 inches in length. Toast the bread for 8 minutes at 350°F. Transfer each piece to a serving plate and spread with anchovy butter.
FOR OYSTER PAN ROAST: Shuck oysters from their shells directly into a small bowl with their liquor. heat olive oil in a medium-heavy skillet over medium-high heat. Add fennel, onion, garlic, and red pepper akes. Cook covered over medium heat, stirring as needed, until vegetables begin to soften, about 4 minutes. Add red wine, crushed tomatoes, bay leaf, and thyme sprig. Stir and simmer gently, uncovered, for 8 to 10 minutes. Just before serving, add oysters with their liquor and simmer until edges of oysters begin to curl, about 2 minutes. Adjust thickness of sauce to your liking with oyster liquor, broth, or water. Taste; adjust seasoning with salt and pepper. Discard bay leaf and thyme stems. ladle half the oyster mixture onto large plates or soup bowls. Divide anchovy toast on top and spoon over remaining oyster mixture. Garnish each with thyme sprigs and serve right away.
---
By Irv Miller | Photography by Bill Strength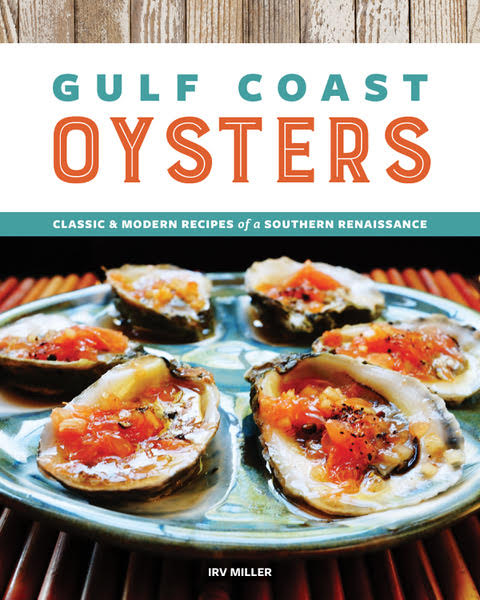 Excerpted from Gulf Coast Oysters: Classic & Modern Recipes of a Southern Renaissance by Irv Miller (Spring House Press, 2018)
More Oyster Pan Roasts
More Oyster Cookbooks to Savor