Find an oyster festival near you! Oyster Obsession tracks the next twelve months of notable oyster festivals, cook-offs, and events around the globe. Click the names of any oyster festivals or events to visit their official site. To add your oyster festivals or events, please email the information to Oyster Obsession.
---
THE NEXT TWELVE MONTHS OF OYSTER FESTIVALS
September 2019
Norwalk Seaport Association Oyster Festival, Norwalk, CT USA (September 7-8, 2019). It's the last blast of summer on the Connecticut shore, at which oysters and lobsters share the spotlight with lumberjacks, artists and artisans, dare-devil acrobats and local, regional and national musical acts.
Prince Edward Island International Shellfish Festival, Charlottetown, Prince Edward Island, Canada (September 19-22, 2019). Be prepared for live Shellfish competitions, cooking demonstrations, and even a celebrity chef sighting or two. At night dance the night away at the biggest East Coast kitchen party, with some of Atlantic Canada's best known entertainment.
New York Oyster Week, New York, NY USA (September 17-29, 2019). New York Oyster Week is a celebration the oyster's considerable and extraordinary role in the history, culture, cuisine, economy and ecology of New York.
Galway International Oyster & Seafood Festival, Galway, Ireland (September 27-29, 2019). The oldest oyster festival in the world and the most internationally recognized Irish festival after St Patrick's Day.
Pemaquid Oyster Festival, Damariscotta, ME USA (September 29, 2019). The Pemaquid Oyster Festival will feature a great line-up of entertainment, food, educational exhibits and thousands of oysters fresh from the Damariscotta River.
October 2019
Halifax Oyster Festival, Halifax, Nova Scotia, Canada (October 4-5, 2019). Celebrate Nova Scotia oysters, local wine and craft beer on the beautiful Halifax Waterfront during this one day festival.
OysterFest, Shelton, WA USA (October 5-6, 2019). Home to the West Coast Oyster Shucking Championship and Washington State's Official Seafood Festival.
Chincoteague Oyster Festival, Chincoteague, VA USA (October 12, 2019). The Chincoteague Chamber of Commerce's 44th Annual Oyster Festival promotes the long standing seafood industry on Virginia's Eastern Shore and marks the arrival of the oyster season.
Falmouth Oyster Festival, Falmouth, Cornwall UK (October 10-13, 2019). Falmouth Oyster Festival celebrates the start of the oyster dredging season, the diversity and quality of Cornish Seafood and in particular, one of the last remaining traditional oyster fisheries, dredging by sail and hand punt.
Meritage Oysterfest, Saint Paul, MN USA (October 13, 2019). Join us for a day packed with activities: Attend Oyster School, watch a band, grab a burger, get a crepe, drink a beer, eat oysters, and meander through shucking stations manned by oyster farmers from both coasts.
NC Oyster Festival, Ocean Isle Beach/Brunswick County, NC USA (October 19-20, 2019). Come join us for the Annual NC Oyster Festival enjoy the oyster stew cook-off, oyster shucking contest, and shag competition.
Wellfleet OysterFest, Wellfleet, Cape Cod, MA USA (October 19-20, 2019). This two-day family festival celebrates the town's famous oysters, clams and shellfishing traditions bringing together locals and visitors alike for a weekend full of hometown flavor and big time fun!
St. Mary's County Oyster Festival, Leonardtown, MD USA (October 19-20, 2019).  The 53rd Annual Festival will serve up oysters raw, scalded, grilled on the barbie, on bread, on the half shell, stewed, nude, cooked in savory sauces, in salads, even in desserts, just about every way imaginable and then some.
The Oyster Festival, Oyster Bay, NY USA (October 19-20, 2019). The East Coast's largest waterfront festival with more than 200,000 attendees, returns this October, offering a fun mixture of new activities and old favorites that are certain to entertain the entire family.
Oyster Riot, Washington, DC USA (October 26, 2019). The Oyster Riot at Old Ebbitt Grill is one of the greatest parties of the year in Washington DC. Always held the Friday & Saturday before Thanksgiving, the Riot is DC's preeminent food & wine event. Each night, nearly 1000 people devour tens of thousands of oysters while enjoying the gold medal winners of the International Wines for Oysters Competition and grooving to some awesome tunes.
November 2019
Oyster Cook-Off and Craft Beer Weekend @ The Hangout, Gulf Shores, AL USA (November 1-2, 2019). Held annually on the Alabama coastline in the heart of the Gulf Coast, the first weekend of November, the Oyster Cook-off, hosted by Food Network Star finalist, Martie Duncan, brings together celebrity chefs from across the U.S. as well as a long list of well-known Gulf coast restaurateurs. See recent Hangout Oyster Cook-Off Winning Dishes.
Urbanna Oyster Festival, Urbanna, VA USA (November 1-2, 2019). Over 75,000 visitors come to one of the nation's oldest seaports, sampling oysters, seafood and other tasty regional specialties, taking in music and waterfront exhibits at Virginia's official oyster festival.
Florida Seafood Festival, Apalachicola, FL USA (November 1-2, 2019). The Florida Seafood Festival is a two day event annually drawing tens of thousands of visitors to the historic town of Apalachicola for oyster eating and shucking contests, the Blessing of the Fleet and more.
January 2020
Apalachicola Oyster Cook-Off, Apalachicola, FL USA (January 17-18, 2020). The event is held every year on the Friday and Saturday before Martin Luther King, Jr. Day in downtown Historic Apalachicola at Riverfront Park, to benefit the Apalachicola Volunteer Fire Department. See photos and winning dishes from the 2016 Cook-Off!
Miami Oyster Week, Multiple locations, Miami, FL USA (TBD, 2020). Miami Oyster Week presents an original and unique event for every schedule, budget, personality type and part of town. Events are designed and produced to engage & enchant everyone from the Oyster Aficionado to the Bivalve Curious.
Alabama Oyster Social, Auburn University, Auburn, AL USA (TBD). David Bancroft and Rob McDaniel bring together all-star chefs and oyster-lovers to celebrate the Alabama oyster, the hard work of the oystermen, and Dr. Bill Walton's crew at the Auburn University Shellfish Laboratory.
Lowcountry Oyster Festival, Boone Hall Plantation, Mount Pleasant, SC USA (January 26, 2020). The Lowcountry Oyster Festival is the world's largest oyster festival and has been named one of the "top 20 events in the southeast" by Southeastern Tourism Society.
February 2020
Hatteras Island Oyster Roast, Hatteras, NC USA (February 1, 2020). An oyster roast for the coast! Gather around the fire at Oden's Dock for an old-fashioned oyster roast, featuring fresh local oysters, seafood chowder, fried fish and other refreshments.
Panacea Oyster Festival, Panacea, FL USA (February 28, 2020). Shuckin' by the Bay in Panacea's Woolley Park, this event showcases local farm raised oysters, live music, beer, celebrity chefs, and much more.
Austin Oyster Festival, Austin, TX USA (Dates TBD). Oysters served raw, grilled, roasted and fried alongside delicious seafood accompaniments, Bloody Marys, beer, wine and spirits with a side of Cajun, Bluegrass,  and "Newgrass" music. At the French Legation Museum.
March 2020
Fulton Oysterfest, Fulton, TX USA (March 5-8, 2020). Oysterfest officials have been working with seafood sources along the Texas Gulf Coast to locate the freshest oysters and other seafood for the event as well as the most popular entertainment. Each year's celebration is a labor of love for the Fulton Volunteer Fire Dept. Funds from the festival purchase have purchased new fire equipment and been saved to build a new fire station.
Amite Oyster Festival, Amite, LA USA (March 20-22, 2020). Organized by the local Amite civic clubs, great music, great fun, and of course great oysters are waiting to be enjoyed in Amite, Louisiana. The festival is three days of events with live entertainment, carnival rides and oysters of all varieties.
Oyster Roast and Sock Burning, Annapolis, MD USA (March 21, 2020). Celebrate the coming of spring at this feast of the Chesapeake's most cherished bivalve. The 7th annual Annapolis Oyster Roast & Sock Burning, a fundraiser for the Annapolis Maritime Museum, will take place at the Museum's waterfront campus. Last year over 750 oyster enthusiasts from nine Mid-Atlantic States attended the event.
April 2020

Fiesta Oyster Bake, San Antonio, TX USA (April 17-18, 2020). The Fiesta Oyster Bake celebrates its 104th anniversary in 2020! Live music and tons of oysters. Held on the campus of St. Mary's University.
Hama Hama Oyster Rama, Hood Canal, WA USA (Date TBD). Hama Hama Oyster Company's annual "Rama" features tours with intertidal ecologists and oyster growers, u-pick oysters and clams, an oyster-sports competition (the Shuckathalon), a beer and wine garden, kid's activities, live music, and various delicious food options. The festival benefits local Hood Canal charities.
May 2020
Narooma Oyster Festival, Narooma, New South Wales, Australia (Date TBD). Narooma Oyster Festival celebrates South Coast NSW oysters and their growers and our region's natural clean quality produce, chefs, and rich artistic and cultural talents.
China Shuck Off, Shanghai – Beijing – Fuzhou, China (Date TBD). A celebration of food & drinks aimed at recognizing and inspiring oyster shuckers around China to be counted among the world's best. Also, the best shuckers from around the world are invited to compete for the China World Cup.
June 2020
New Orleans Oyster Festival, New Orleans, LA USA (June 6-7, 2020). This free event features live music, contests and competitions, and tasting events starring the festival's namesake, the Louisiana Oyster. Among the contests is an oyster shucking and oyster eating competition sponsored by some of the city's leading seafood restaurants.
Chesapeake Oyster & Wine Festival, National Harbor, MD USA (TBD). The DC Region's newest seafood and wine festival. Taste top-rated American and international wines paired perfectly with the Chesapeake's wild and farm-raised oysters and a wide selection of gourmet seafood dishes.
Arcata Main Street Oyster Festival, Arcata, CA USA (TBD). The Arcata Bay Oyster Festival tradition focuses on the local bounty, environmental health, and the diversity of our community. It's a celebration of North Coast culture where chefs, merchants, volunteers, and guests revel in award-winning oysters and other tasty non-oyster delicacies, local beverages, live local music, and art.
July 2020
Knysa Oyster Festival, Knysa, South Africa (June 26 – July 5, 2020). Spread across two weekends, The Knysna Oyster festival is one of South Africa's most popular festivals with appeal to sports lovers, families, and those in search of a great party!
Central Coast Oyster and Music Festival, Avila Beach, CA USA (TBD). Overlooking the Morro Bay Oyster Farm, the Central Coast Oyster & Music Festival has been voted by Fox News as one of the Top Ten Oyster Festivals in the nation and is the largest Oyster Festival on the West Coast.
Montreal Oysterfest, Montreal, Quebec, Canada (Returns Summer 2020). Montreal Oysterfest continues the great worldwide tradition of celebrating food, drink, the environment and, of course…the humble Oyster. 3 shucking competitions, 3 drink making competitions, and a plating competition (Oysterfest's take on Iron Chef) await you!
August 2020
National Oyster Day, Everywhere USA (Wednesday, August 5, 2020). Of course for members of Oyster Obsession, every day is Oyster Day! We celebrate 365 oyster festivals a year, but we'll gladly welcome another excuse to enjoy our favorite food.
Milford Oyster Festival, Milford, CT USA (August 15, 2020). The Milford Oyster Festival claims the largest variety of oysters at any festival in the USA. There will be 35,000 oysters with 19 varieties from 8 states on the East Coast. Try one of each!
---
Oyster Recipes and More
Search or browse through hundreds of oyster recipes. We feature "Your Oyster Recipe of the Day," every day, 365 days a year! You can find them all, fried, smoked, baked, grilled, sandwiched, stewed, even pickled, right here.
---
Summary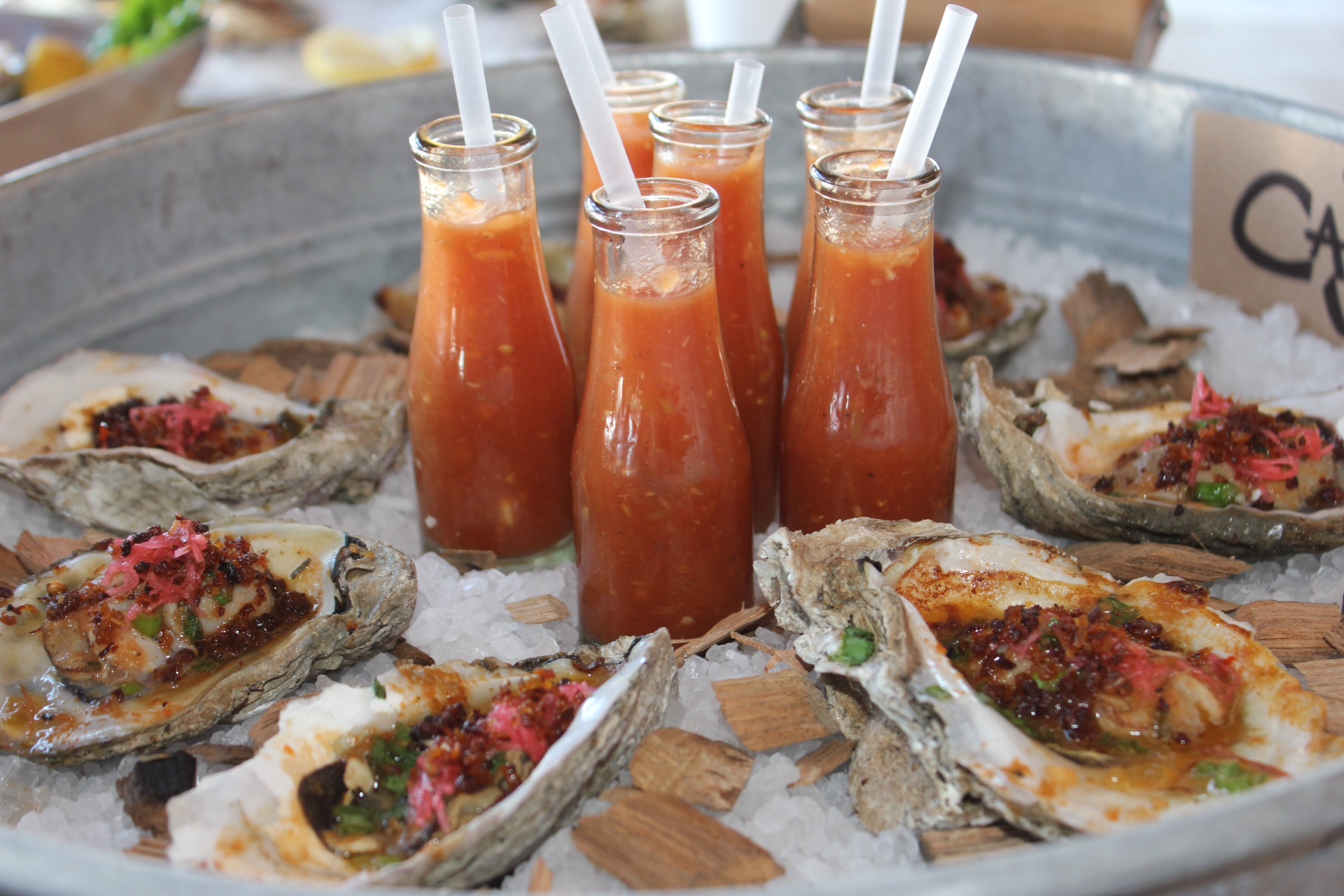 Article Name
Oyster Festivals and Events
Description
Find an oyster festival near you! Oyster Obsession tracks the next twelve months of notable oyster festivals and events around the globe. If you love oysters, celebrate them with friends.
Author
Publisher Name
Publisher Logo