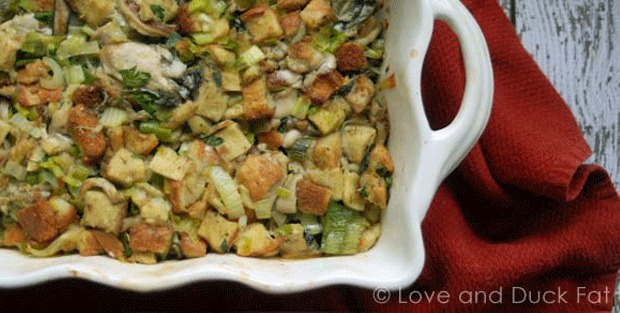 By Marni Mutrux Meistrell
Oyster stuffing is a favorite of mine. It's a tradition in my family, and this recipe takes it up a notch with shiitake mushrooms and leeks. It's basically a combination of some of my favorite things, in one rich – yet delicate – dish.
If you grew up along the coast, like I did. Raw oysters are an initiation of sorts. You are an adult if you eat them. If you eat them, you crave them. You covet them.
When I looked online for oyster stuffing recipes, I was a little mortified. Canned oysters? Why on earth would anyone use canned oysters? I know a lot of people do, and I don't want to turn my nose up at the stuff (I know, I kind of am). I won't hate you if you use them, but the fresh oysters you find in the refrigerated seafood section are so much better. Ridiculously better. They are sweet and briny and smell like the ocean, not fishy. The fresher your oysters, the less fishy the stuffing.
The way I see it, you only make oyster stuffing once a year. It's a special occasion, so let's do the right thing and splurge on the good stuff. If you really want to go all out, get a couple dozen fresh oysters, take them home and shuck them yourself (saving some to eat right away, of course).
There is too much of a good thing, though. One Thanksgiving, my mother decided to double the amount of oysters in her stuffing. She stuffed the turkey and after an hour or so, the whole house smelled like fishy turkey. It permeated the bird, the gravy, the stuffing. We tease her about it every Thanksgiving.
Oyster Stuffing with Mushrooms and Leeks Recipe (Serves 12)
Ingredients
1 pound firm white fresh bread, cut into 3/4-inch cubes (about 10 cups)
8 tablespoons (1 stick) butter
1 pound shiitake mushrooms, stemmed, caps cut into 1/4-inch slices
3 large celery stalks with leaves, chopped
3 medium leeks (white and pale green parts only), chopped (about 3 cups)
1/3 cup chopped fresh parsley leaves, chopped
1 teaspoon dried thyme
1 teaspoon dried rosemary
1 teaspoon crumbled dried sage leaves
2 8-ounce jars fresh shucked oysters, cut into 1-inch pieces (reserve the liquid)
1/2 cup reserved oyster liquid
1 cup turkey or chicken stock
Method
Preheat oven to 325° F/165° C
First, you need to dry out the bread. Arrange it in a single layer on a baking sheet. Bake for 12 minutes, until crisp, dry and golden brown. This can be prepared ahead. You could also use stale bread and skip the baking step.
Butter a casserole dish. In a skillet, melt 4 tablespoons of the butter over medium-high heat. Saute the mushrooms in the butter until they turn brown and their liquid evaporates. Remove them from the skillet and add to a large bowl.
Add the remaining 4 tablespoons of butter to the skillet and cook the celery and leeks. Cook the vegetables 8-10 minutes, until they are tender.
Add the celery, leeks, parsley and herbs to the large bowl with the mushrooms. Season with salt and fresh pepper. Toss to combine.
Add bread cubes to the vegetable mixture and toss to combine. Taste for seasoning. Add more salt if necessary.
Add the oysters, oyster liquid and turkey stock to the vegetables and stir to combine. Transfer to the casserole dish and cover with foil. You can chill until you are ready to bake. Bake the stuffing covered for 45 minutes.
Browse dozens more oyster dressing recipes from your favorite magazines, cookbooks, and food blogs.
Note: This recipe for oyster stuffing with mushrooms, very slightly adapted from Bon Appetit, November 2000 was originally published on a favorite site of mine, Love and Duck Fat. Marni is a fantastic recipe developer and now a cannabis company founder, at Tropizen.