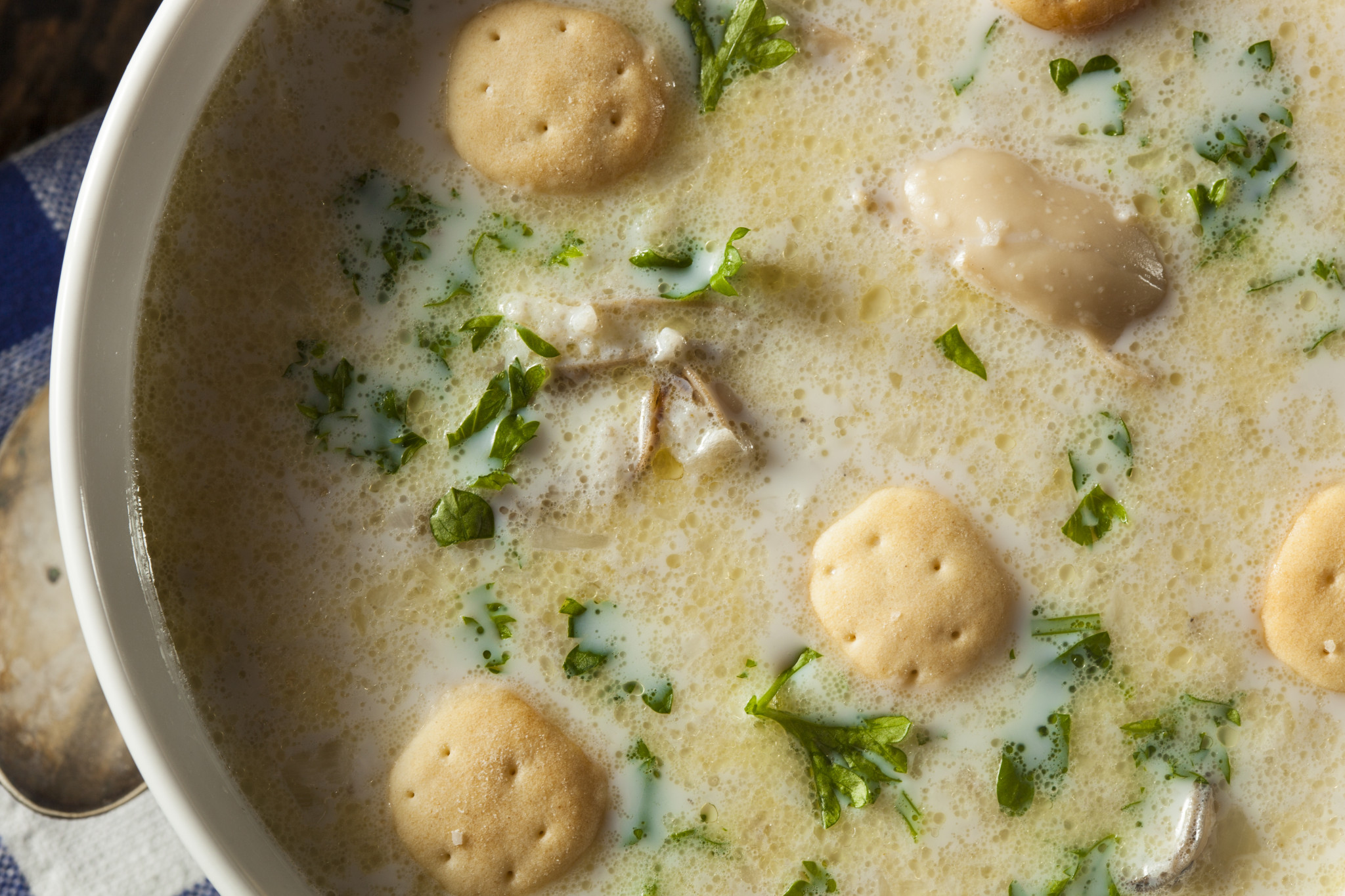 At Christmas time, the American melting pot might be simmering with Oyster stew. Variations on the humble stew play a part in Christmas Eve menus across the United States.  History.com attributes the tradition to Irish Catholic immigrants arriving in America in the 19th Century. Many Italian families have oyster stew as part of the Feast of the Seven Fishes. Other accounts tell of Germans, Danes, French and Mexicans enjoying it for generations. I've rounded up a baker's dozen Christmas Eve oyster stew recipes to choose from (plus an awesome gumbo). Merry merry! (? indicates the 6 recipes with the most likes in the Oyster Obsession Facebook group)
Antoine's Oyster Stew. This isn't your simple New England oyster stew. It's loaded with all of the flavor you expect from a legendary Louisiana restaurant: garlic, cayenne, onion, parsley and FIFTY oysters. Share a bowl with your family and friends and have a wonderful Christmas Eve! (Saveur and other sites have published this recipe, but Sippity Sup has the best photos, by far.)
Oyster Stew with Coconut Milk. Chef Floyd Cardoz shared this incredible, spicy, aromatic stew with Wine Enthusiast. It sounds like a big bowl of Christmas to me!
?Classic Creamy Oyster Stew. Lynne Rossetto Kasper's simple, oyster stew was chosen as one of the 20 best recipes in the history of The Splendid Table. One spoonful and you'll know why.
Golden Oyster Stew. This Southern Living recipe is a take on oyster and potato chowder. It's old fashioned (calling for a can of cream of potato soup), but delish!
?Tomato Oyster Stew. Not all oyster stews are butter and cream based. This rich, oyster-loaded recipe from W&T Seafood starts with fish stock and diced tomatoes.
Oyster Stew with Andouille Mashed Potatoes from Emeril Lagasse. This stew is ladled over a mixture of creamed potatoes and diced sausage. Yum! It brings to mind Louisiana gumbo served on red potatoes or potato salad.
?Emeril's Oyster Artichoke Soup. This recipe at Deep South magazine proves that oysters love artichokes (almost as much as they love bacon). And that we can always count on Emeril Lagasse for a good oyster dish.
Rudy Lombard's Cream of Oyster Soup. The late civil rights attorney and food historian, Rudy Lombard, shared his recipe for this creamy classic with Louisiana Kitchen & Culture. Lombard was a founding member of Southern Foodways Alliance. His book, Creole Feast: 15 Master Chefs of New Orleans Reveal Their Secrets
, includes recipes and oral history from some of New Orleans' (and Creole cuisine's) most influential black chefs.
?Oyster and Brie Champagne Soup. Another incredibly decadent, creamy, celebration of oysters from Paula Deen? Yes, please!
?Cream of Oyster Soup. A bowl of simple, creamy perfection from Louisiana Kitchen & Culture. 1 pot. No shucking required. If you read this recipe and EVER again buy a red and white can of oyster soup, you will be deeply ashamed in your heart. ?
Oyster and Cauliflower Chowder. This hearty oyster chowder from Organic Life has a bite of red chile pepper powder.
Oyster Chowder with Bacon and Vegetable Garnish. Chuck Hughes starts this rich, creamy oyster chowder with Yukon gold potatoes and finishes with a bacon, potato, celery and onion topping. Be sure to watch "The Oyster Shuckers" episode of "Chuck's Day Off" from The Cooking Channel.
Meauxbar's Oyster Pan Roast featured in Louisiana Cookin' "…you can eat it like a soup or you can eat it as this soggy, messy, rich toast kind of perfectly delicious thing," says Chef Kristen Essig, chef at Meauxbar, New Orleans. It turns out I'm a fan of soggy, messy, rich toast kind of things!
?Donald Link's Seafood Gumbo. At 5+ hours to prepare, this is weekend cooking. But who could resist the dish that made Donald Link want to become a chef? Blue crabs. 4 pounds of shrimp. 2 pints of oysters… Mmmmmm. You can get Link's fabulous cookbook, Real Cajun: Rustic Home Cooking from Donald Link's Louisiana
at Amazon.
More history of oysters at Christmastime:
Save