At Lucy's Fried Chicken in Austin, TX, they make an oyster shooter called "Chicken Lips" with a chicken crackling and chicken salt rim. It's fantastic, but I know that oysters love pork far more than they love chicken. Translate chicken crackling and chicken salt into "pig" and you've got crunchy pork rinds and bacon. Throw in a hit of Old Bay and it adds up to some awesome Pig Lips Oyster Shooters.
The drink works with vodka or tequila (I prefer the latter) and is best with a mild, sweet Bloody Mary mix. Even tomato juice or V8 are yummy in it. A bold mix overwhelms the pork.
Watch your back, saltines! After a few folks have their oysters on pork rinds, your days are numbered.
Pig Lips Oyster Shooters Recipe (Serves 6)
Ingredients
3 1/2 ounce bag of pork rinds
1 tablespoon Old Bay Seasoning
1/2 cup real bacon bits
1 lime
3 ounces chilled tequila
6 teaspoons Bloody Mary mix
2 tablespoons minced chives
Directions
In a food processor, pulse about two cups of pork rinds, bacon, and Old Bay Seasoning until finely ground. Place mixture in a shallow bowl or on a plate.
Run a wedge of lime around the rims of six Champagne flutes and press each into the pork and spice mixture.
Add a freshly shucked oyster to each glass.
To each glass, add 1/2 ounce tequila, 1 teaspoon Bloody Mary mix, and 1 squeeze of lime. (Note: I prefer this with a sweeter Bloody Mary mix or even V8 juice).
Garnish each with a pinch of chives and top each glass with a pork rind.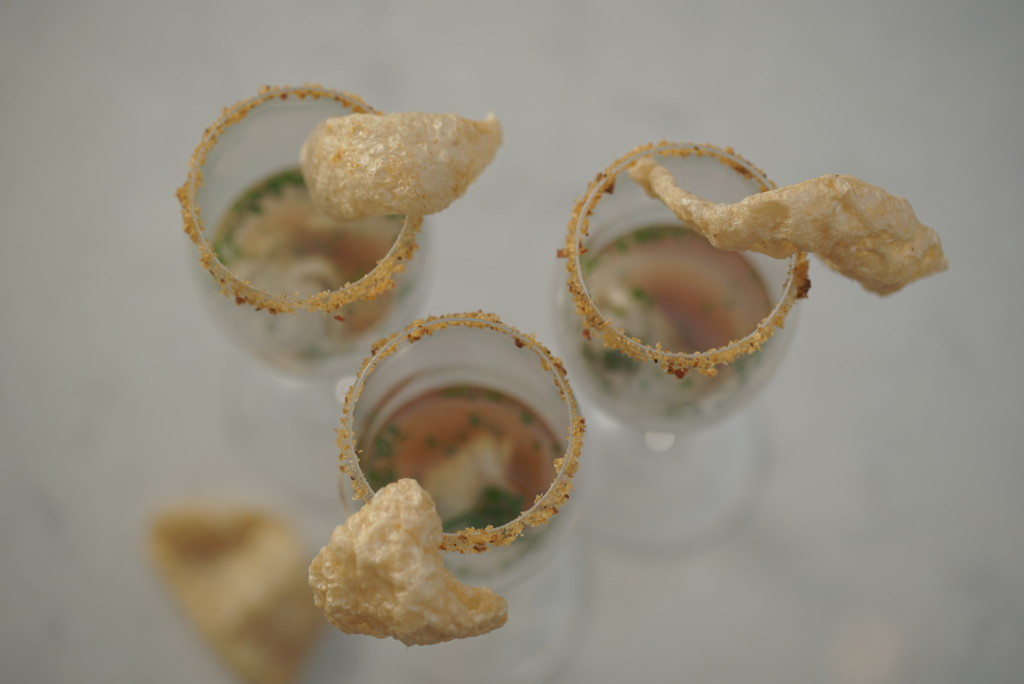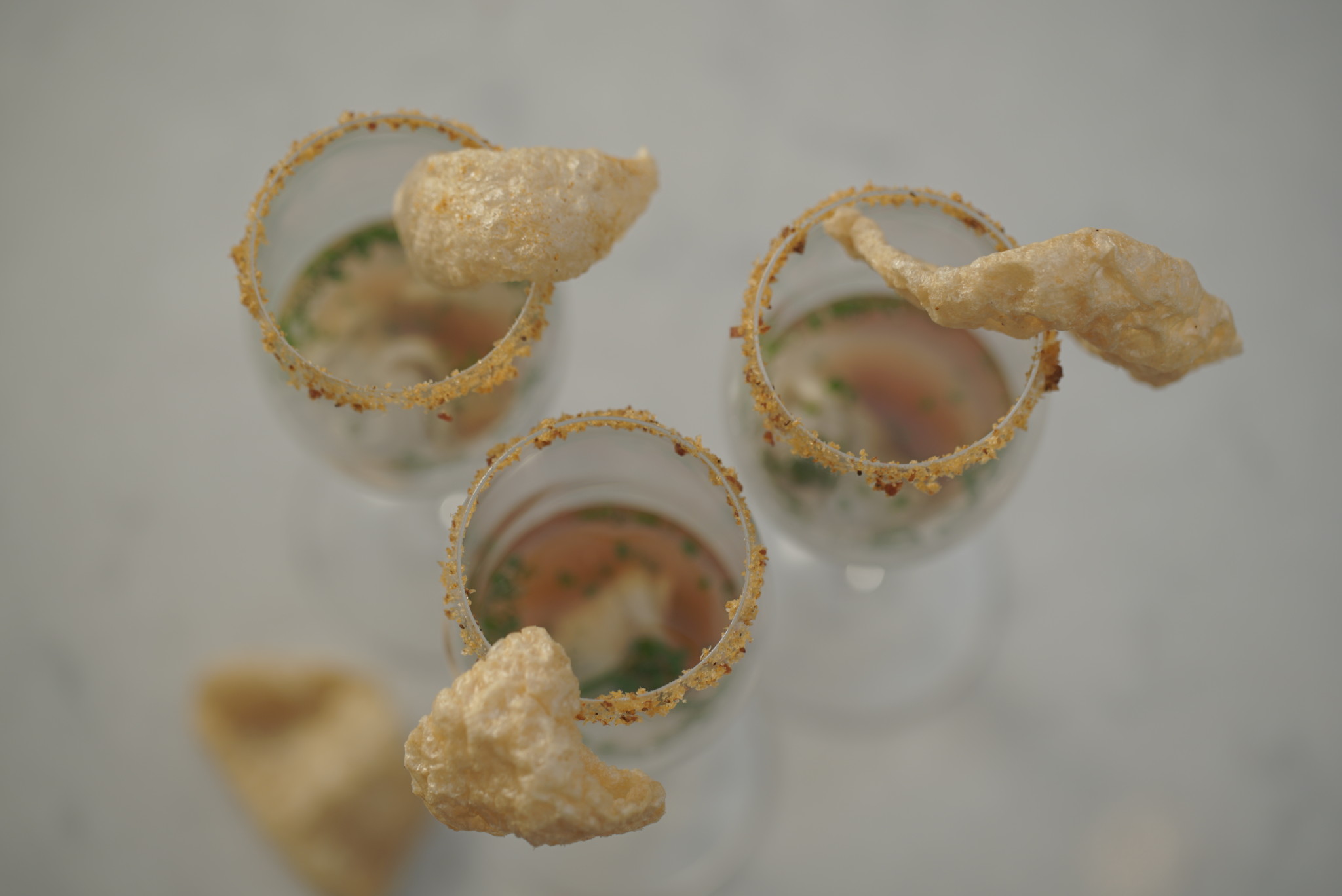 "Our Search for the Best Bloody Mary Mix" from Serious Eats
When you're in the Austin area, don't miss a chance to chow down at Lucy's Fried Chicken!
Save
Summary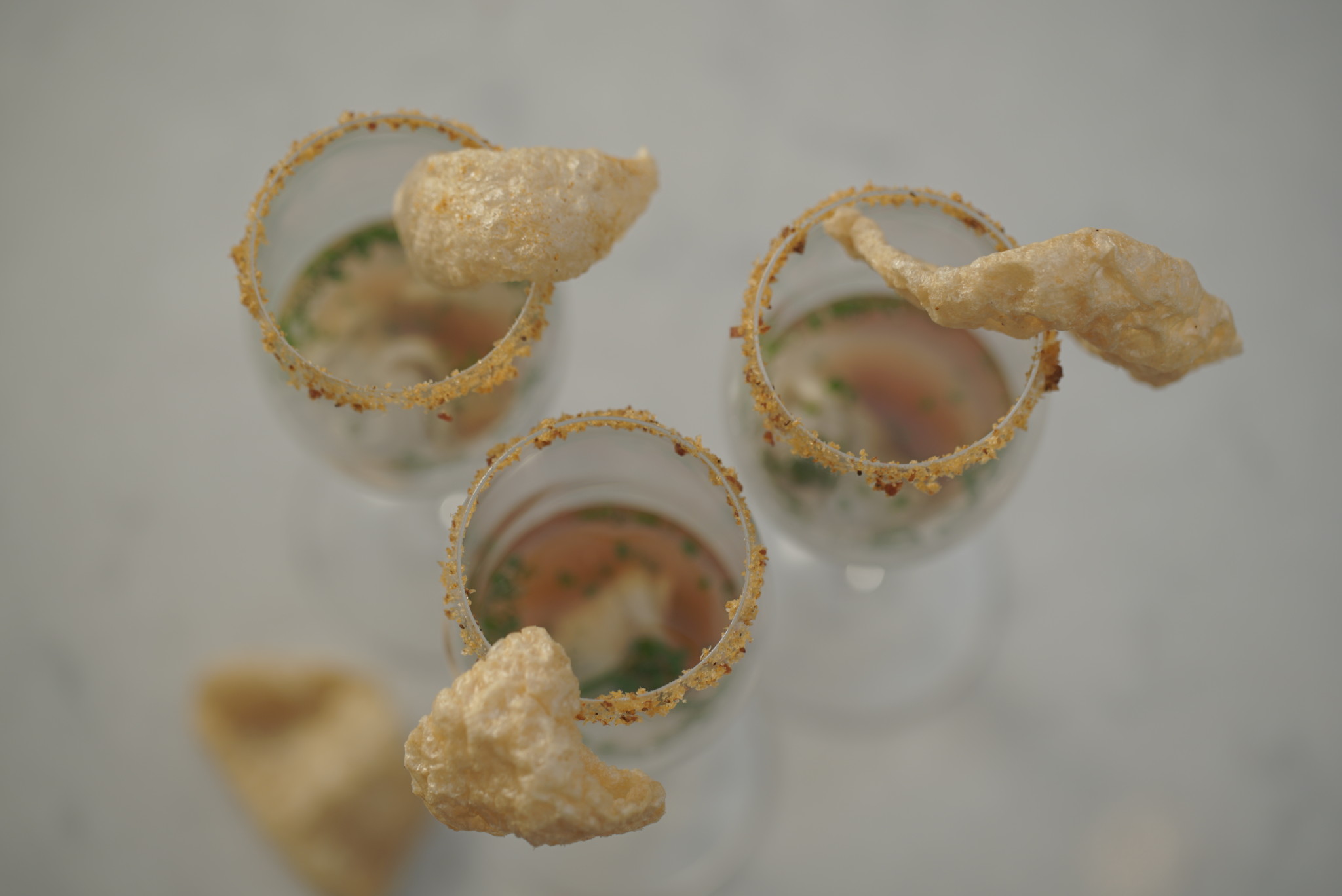 Recipe Name
Author Name
Published On
Preparation Time
Total Time
Average Rating





Based on 1 Review(s)