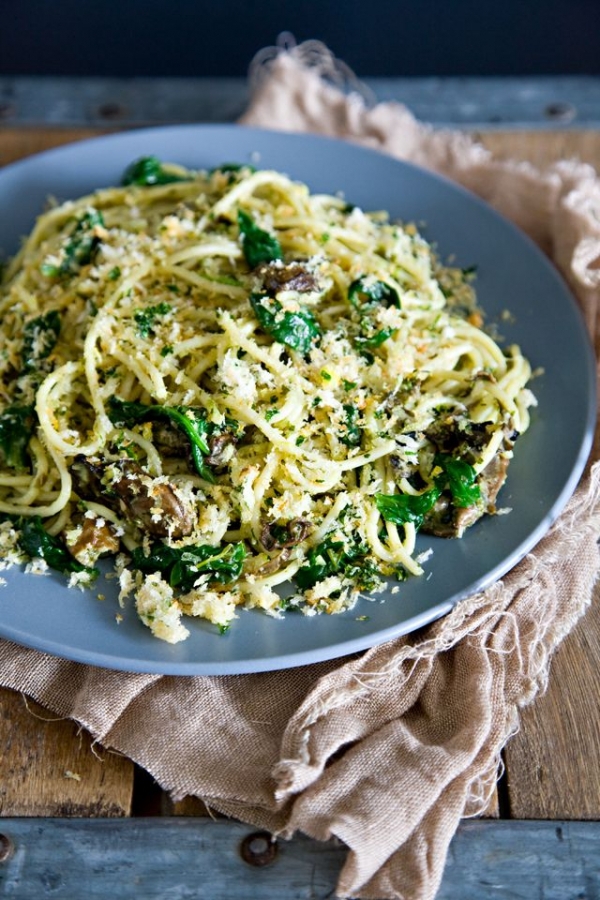 Your Oyster of the Day: Spinach and Smoked Oyster Spaghetti. Here's another oysters Rockefeller inspired pasta dish. This one from Tartine and Apron Strings, balances the smoked oyster and olive oil spaghetti with lemony breadcrumbs.
Spinach and Smoked Oyster Spaghetti (Serves 4)
Ingredients
1 bunch spinach
450 g spaghetti
2 tablespoons extra virgin olive oil
6 garlic cloves
170 g (6 oz / 2 cans) smoked oysters, roughly chopped
½ cup white wine
½ cup vegetable broth
a handful of flat-leaf parsley, finely chopped
grated zest of 1 lemon
½ cup breadcrumbs, preferably panko or whole wheat
a handful of wheat germ (optional)
a squeeze of lemon juice (optional)
Directions
Bring a pot of water to boil and blanch the spinach, about 30 seconds. You may have to work in batches. Drain and set aside.
In the same pot of boiling water, add salt and cook your pasta according to package directions. Drain and set aside.
Wipe the pot clean and heat olive oil over medium heat. When oil is hot, turn it to low heat and add the garlic. Cook until softened and aromatic, about 1 to 2 minutes.
Raise the heat to medium. Add the smoked oysters in the pot and stir for about 1 minute.
Add the white wine and vegetable broth, and simmer for about 2 minutes.
Add chopped parsley and half of the lemon zest to the pot, followed by the cooked pasta, and finally, by the cooked spinach. Stir gently.
Toast your breadcrumbs and wheat germ (if using) together either in a pan set over high heat or broil in 425 F until golden brown.
Sprinkle the pasta with the remaining half of the lemon zest and the toasted breadcrumb-and-wheat-germ mixture. If you prefer, finish with a squeeze of lemon juice as well.
Note: Tartine and Apron Strings site is down as of July 2016. I copied the recipe above from the Wayback Machine and reproduced it.