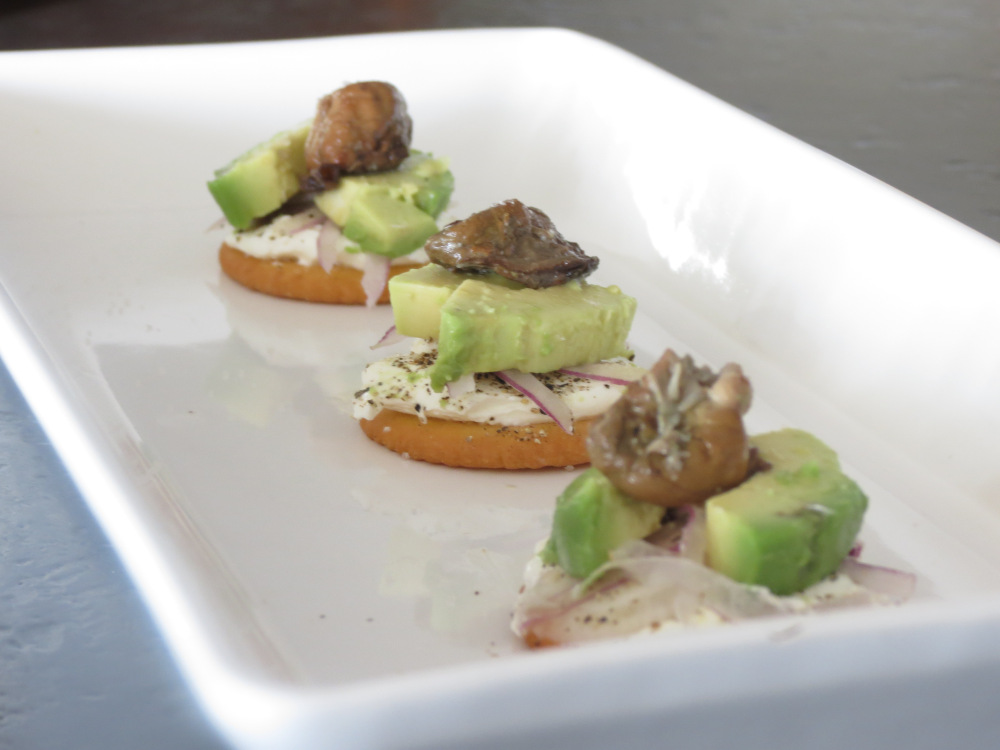 Your Oyster Recipe of the Day: Smoked Oyster and Avocado Crackers. Super simple, super yummy treat for game day (or any party). Julie at Mitts and Measures guarantees 100% satisfaction with this recipe. And since it's one of your favorite smoked oyster recipes, she agreed to share it with Oyster Obsession!
Smoked Oyster Appetizers
Ingredients:
1 tube Ritz crackers
8 ounces cream cheese
Black pepper
1 red onion — very thinly sliced (so you can see through them)
A ripe avocado — very thinly sliced
1 can smoked oysters — well drained and drizzled with lemon juice
Coarse smoked salt
Directions:
Layer all ingredients in order, ending with the salt. Make lots, because they will disappear fast.
Cut the cream cheese into ⅓ inch slices and then spread evenly onto the crackers. An 8 ounce package will be more than enough for one can of oysters, one avocado and one tube of crackers.
The red onion should be sliced so thinly that you can see through it, and don't be afraid to be generous with it; the other flavors keep it very mild tasting.
Cut the avocado in half lengthwise, remove the pit and halve again lengthwise. Then slice it crosswise into ⅛ inch slices.
Open the can of oysters, drain them on paper towel to remove as much oil as possible. Then drizzle with lemon juice and sprinkle with the smoked salt before placing onto the crackers.
More Smoked Oysters
Whether you want to smoke your own oysters or find ways to cook with canned smoked oysters, this is the recipe collection for you. Enjoy more than twenty of the best smoked oyster recipes from your favorite magazines, cookbooks and chefs.
Save