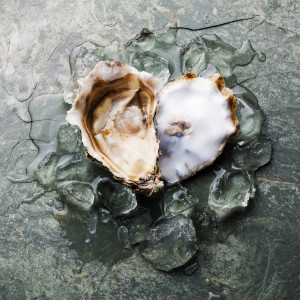 We've gathered seven of the sexiest, most romantic, worthy of Valentine's Day oyster recipes from your favorite chefs, cookbooks, and magazines. And because we love you so, we even threw in an Oyster Obsession original.
Serve up some luxury with Oysters Moscow Shooters. Ice cold oysters topped with sparkling wine, a drop of lemon, black caviar, and cool sour cream are proof that you can't put a price tag on love. The only way to make these more decadent is to have someone feed them to you. Ahem.
For a little spice and fizz, try Highland's Oyster Mignonette. Chef Frank Stitt of Highland's Bar & Grill in Birmingham shared this recipe with Saveur. It's bubbly with prosecco or cava plus the fruity heat of pink peppercorn, then shallots and raspberry vinegar.
Stir the senses with Champagne Oyster Risotto. While you (or your partner) stir this creamy risotto, the oysters, chopped tomatoes and arugula marinate in oyster liquor and Champagne. Use your non-stirring hand to sip any excess bubbly. When the risotto is taken off the heat, melt in some Parmesan and butter, stir in the oysters and prepare for satisfaction.
K.I.S.S. (Keep it simple, sweetheart). Oysters alla Tarantina from Emiko Davies proves that the simplest recipes are usually the best. Only five ingredients (oysters, parsley, breadcrumbs, black pepper and olive oil) combine to make this wonderful baked treat. Ps. Notice there are no onions or garlic…
Damon Lee Fowler's description of Bonnie Gaster's Perfect Fried Oysters recipe is practically a love song.  He claims these juicy and creamy fried oysters "are pretty much as close to perfect as we ever get in this life." You might love them almost as much as your Valentine. Almost.
Desire something strong, attractive and a little fiery? You'll want Mexican-Style Oysters from Cooking.com. Simple, fun, refreshing, drunken oysters with a splash of tequila and lime, and a few drops of chipotle pepper sauce. Arriba!
To turn up the heat, serve a bowl of Linguine with Spicy Oyster Sauce from Chef John Folse. Italian and Louisiana flavors come together in this sauce warmed up with crushed red pepper flakes, black pepper, and sriracha. 
Still can't get no satisfaction? Browse hundreds of oyster recipes that have been featured on Oyster-Obsession's Facebook group and Twitter feed.
Save