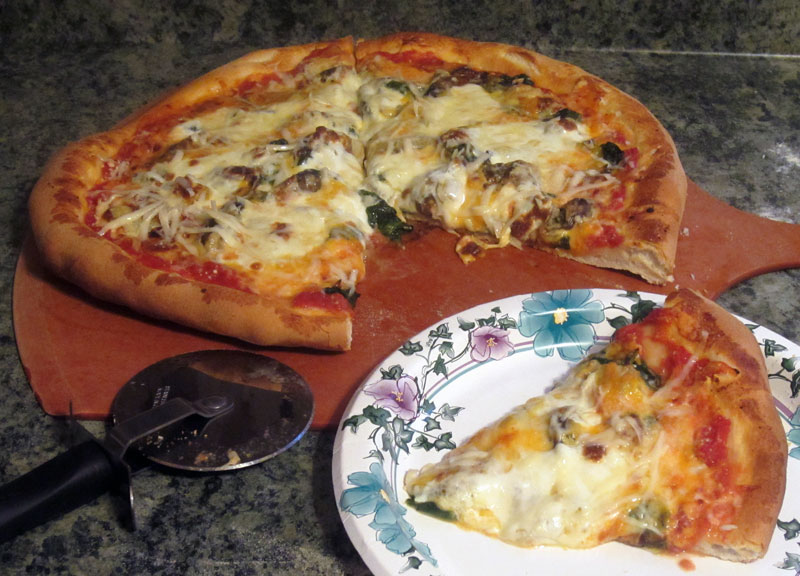 Your Oyster Recipe of the Day: Cheesy Smoked Oyster Pizza. More of a rough draft than a complete recipe, the late Thomas Tate's "Saturday night pizza" looked delicious! I've adapted his original recipe and fleshed it out a bit for beginning cooks.
Follow Tate's recipe for a homemade semolina crust or use your favorite supermarket pizza crust. Then get ready to pile on the toppings: diced tomatoes, garlic, butter sauteed spinach and sweet onions, artichoke hearts, smoked oysters and heaps of cheddar and mozzarella.
Cheesy Smoked Oyster Pizza
The Pizza Dough
½ teaspoon yeast
¾ cup warm water
¼ teaspoon salt
1 tablespoon flour
¼ cup of semolina flour
2 cups of bread flour
Mix together the first four ingredients and set aside for about 10-15 minutes to proof the yeast.
Add semolina flower and bread flour and mix until a sticky dough forms.
Dough can be stored for in an oiled bowl in the refrigerator for about two hours.
The Pizza Toppings
14 ounce can whole, peeled tomatoes, diced up in the food processor
1 tablespoon chopped roasted garlic
1 cup grated Parmesan cheese, divided
½ vidalia onion, thinly sliced
½ cup fresh baby spinach
1 tablespoon butter
14 ounce can artichoke hearts
1 3.75 ounce can smoked oysters
½ cup grated cheddar cheese
½ cup grated mozzarella cheese
16 ounces fresh mozzarella cheese, thinly sliced
Preheat oven to 550°. For best results, use a pizza stone if you have one.
Melt butter in a skillet over medium high heat, and sautée onion and spinach. Remove mixture from heat and drain on paper towels.
Coarsely chop artichoke hearts and set aside to drain on paper towels.
On a floured surface stretch pizza dough to make a 12 to 14-inch round.
To Assemble the Pizza
Spread about 1 cup of tomato "sauce" over pizza crust.
Sprinkle garlic and ½ cup grated parmesan cheese evenly over crust.
Evenly spread onion and spinach mixture, then add artichoke hearts and oysters.
Sprinkle with grated cheddar and grated mozzarella, then add slices of mozzarella.
Bake at 550° for about 8 minutes or until crust is golden and cheeses are melted. Remove from oven and top with remaining Parmesan cheese.
Note
The biggest challenge with this many toppings is preventing a soggy pizza crust. If you don't use a pizza stone, you may want to pre-bake the crust for 2-3 minutes before adding toppings. Don't overload the crust with tomato sauce and make sure all of the toppings are well-drained!
---
See Thomas Tate's original recipe here: http://thomastate.com/index.php/archives/474
Get more of the best oyster pizza recipes from your favorite magazines, cookbooks, chefs and food blogs.
Summary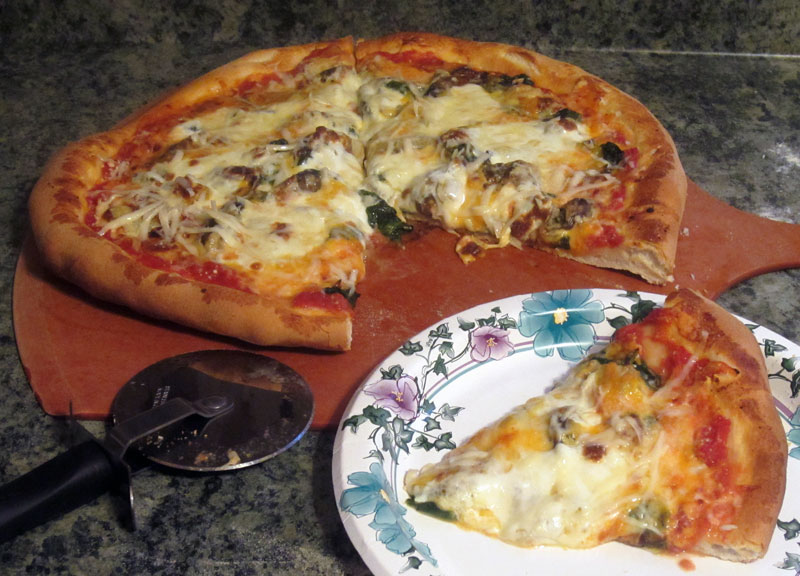 Recipe Name
Cheesy Smoked Oyster Pizza
Author Name
Published On
Preparation Time
Cook Time
Total Time